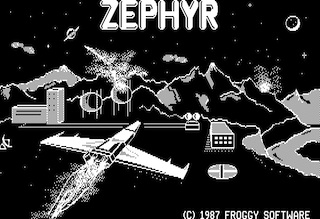 ---
The Story behind Zephyr
Zephyr was written by Richard Soberka in 1987. It had to be released by Froggy Software for Christmas 1987 but the company, owned by Jean-Louis Le Breton, closed its doors at the same time. And the finished game remained unreleased until 2013!

Brutal Deluxe Software is proud to make it available with the agreement (blessing ;-)) of Richard and Jean-Louis.

Richard is a well-known hacker and programmer of the French Apple II scene. Jean-Louis is the author of the first Apple II adventure games in French and has released more than ten games through Froggy Software.


---
The package
Now, get one disk image copy made available to you. Purchase it and you will get a double-sided floppy disk image (French and US versions). Floppy disk image means you get an electronic file, not a real floppy disk!
The game runs on Apple //c, //e, IIgs ROM 01 and ROM 3 with at least 128K. As a software from 1987, it may not run on your Apple IIgs ROM 3 configuration.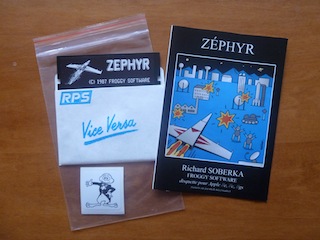 ---
See Zephyr in action!
---
Shipment status (if you're here, you'll receive it shortly)
| | | |
| --- | --- | --- |
| 1 | Carole | France |
| 2 | Francois | France |
| 3 | Frederic | France |
| 4 | Jean-Michel | France |
| 5 | Eric | France |
| 6 | Richard | USA |
| 7 | Brian | USA |
| 8 | Jesse | USA |
| 9 | Mark | USA |
| 10 | Jorma | Finland |
| 11 | Benoit | France |
| 12 | Jerome | France |
| 13 | David | USA |
| 14 | Vincent | France |
| 15 | Erik Marius | Norway |
| 16 | Erick | La Reunion |
| 17 | Kenneth | USA |
| 18 | Giorgio | Italy |
| 19 | Philippe | France |
| 20 | Thierry | France |
| 21 | Arnaud | France |
| 22 | Andrew | UK |
| 23 | Stephane | France |
| 24 | Michel | Canada |
| 25 | Fabrice | France |
| 26 | Wade | Australia |
| 27 | Jonas | Germany |
| 28 | Jean-Marc | France |
| 29 | Jean-Christophe | France |
| 30 | Sean | USA |
| 31 | Joshua | USA |
| 32 | Antony | France |
| 33 | Didier | France |
| 34 | Paul | France |
| 35 | Eileen | USA |
| 36 | Bill | USA |
| 37 | Marcus Vinicius Garrett | Brazil |
| 38 | Dagen | USA |
| 39 | Andrew | USA |
| 40 | Rene | France |
| 41 | Nicolas | France |
| 42 | Daniel | USA |
| 43 | Gabriel | France |
| 44 | Sylvie | France |
| 45 | Anne | France |
| 46 | Marc | France |
| 47 | Philippe | France |
| 48 | Douglas | USA |
| 49 | Jean-Pierre | France |
| 50 | Olivier | France |
| 51 | Eric | France |
| 52 | David | France |
| 53 | Yann | France |
| 54 | Herve | France |
| 55 | Peter | USA |
| 56 | Joaquin | USA |
| 57 | Tony | USA |
| 58 | Lester | USA |
| 59 | Petar | USA |
| 60 | Jason | USA |
| 61 | Paul | USA |
| 62 | Bernard | France |
| 63 | Peter | USA |
| 64 | Mark | USA |
| 65 | Byron | USA |
| 66 | George | USA |
| 67 | Donals | USA |
| 68 | Stavros | USA |
| 69 | Robert | USA |
| 70 | Andrew | USA |
| 71 | Dirk | Germany |
| 72 | Garrett | USA |
| 73 | Alex | Australia |
| 74 | Bill | Japan |
| 75 | <reserved> | Brazil |
| 76 | Philippe | France |
| 77 | Nicolas | France |
| 78 | Egan | USA |
| 79 | Ivan | USA |
| 80 | Stephen | USA |
| 81 | Gilles | Switzerland |
| 82 | Alexandre | Brazil |
| 83 | Didier | France |
| 84 | Michael | UK |
| 85 | Philippe | France |
| 86 | Richard | USA |
| 87 | Jason | USA |
| 88 | David | USA |
| 89 | James | USA |
| 90 | Bertrand | France |
| 91 | David | France |
| 92 | Rob | Australia |