v1.6.2 - January 2021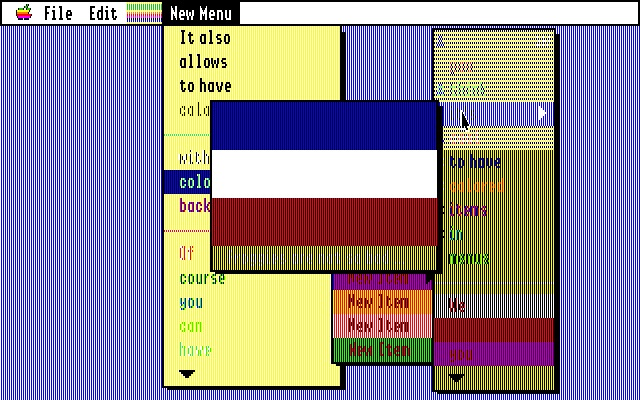 Hierarchic
A maintenance update of Brainstorm Software's Hierarchic
---
Brainstorm Software released Hierarchic in 1991 and updated it until 1994. The latest update, v1.6.2, was never released.
Hierarchic brought hierarchical menus to Apple IIgs desktop applications.
Thanks to a generous donor, we were sent the original source code that we updated to ease further updates and translations. We also made it Merlin 32 compatible (and it was straightforward). Since the beginning, Hierarchic was written and maintained by Etienne Petitjean.

We cannot say what v1.6.2 fixes vs earlier versions, no information was provided. But what we did is the following:

a unique source code whatever the language (it used to be a source file per language)
an installer (previously, there was none) and I like installers ;-)
Are there differences between FR/US 1.6.2 and US 1.6.3 (updated in 1997 by Richard Bennett)?
US 1.6.3 adds two internal calls to get/set the initial display delay, FR/US 1.6.2 does the same now
US 1.6.3 fixes a bug with MenuKey, FR/US 1.6.2 does the same now
US 1.6.3 has some code optimizations (mouse/button calls, tick calls) whereas FR/US 1.6.2 keeps the standard calls
US 1.6.3 uses a CDEV instead of a CDA, FR/US 1.6.2 keeps the usual CDA
Documentation is the same in US 1.6.3 and FR/US 1.6.2
So, what is the best version? There are similar in usage. So, use the one you prefer (a CDEV vs a CDA)
---
Download:


.2mg disk image (800k, v1.6.2)