Feb 7th, 2016 - Antoine Vignau and Olivier Zardini, founders of Brutal Deluxe Software, are happy to introduce their newest software to the Apple II community.

"You, DustHead!" (now at v1.1) is Brutal Deluxe's third answer to nowadays preservation of 5.25" and 3.5" diskettes on the Apple II. Cleaning your disk drive(s) head(s) is mandatory to do. We hope this will help preserving 5.25" and 3.5" disks (Hi 4am).

The source code of the program is available.
---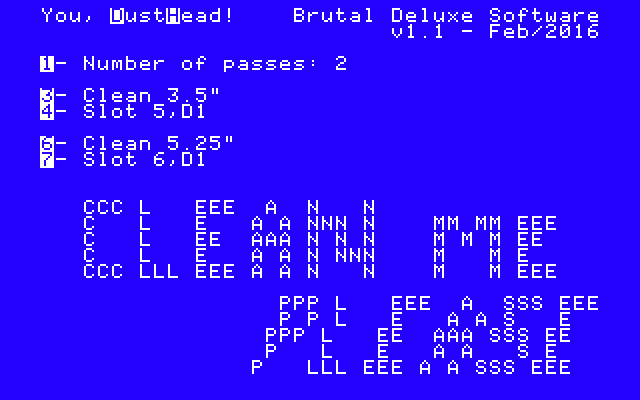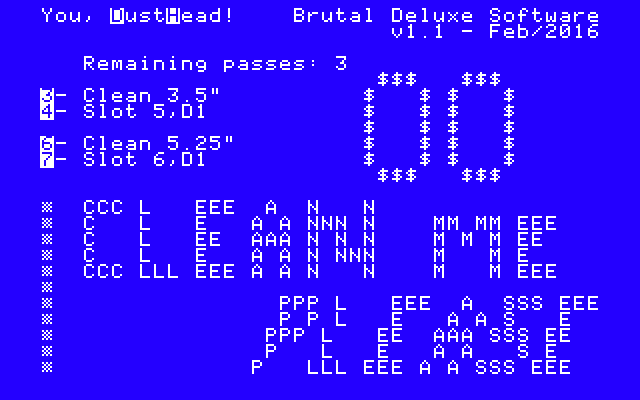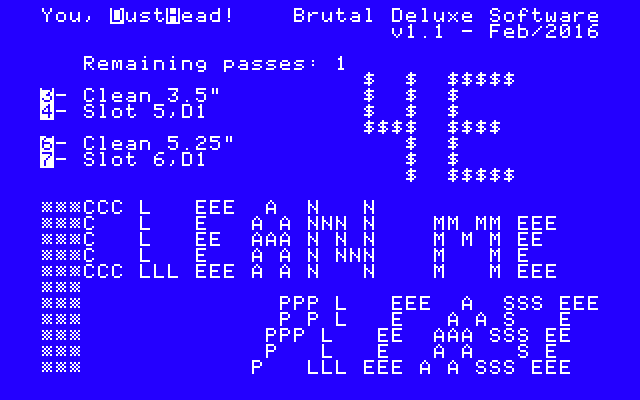 ___________________________________________________________________________

How to use?

	- 1. Launch the application
		Double-click the "DustHead.System" program

	- 2. Select a number to start cleaning your disk head(s)
		The cleaning process is launched...

___________________________________________________________________________

Main screen commands

	- 1 - Number of loops
		This option determines the number of times the disk drive will loop
		from the first to the last track of your disk. 
		"0" means an unlimited number of times, press a key to interrupt the process.

	- 3 - Clean 3.5"
		This option will wait for the insertion of a disk in either drive 1 or drive 2,
 		then it will clean the heads of the disk.

	- 4 - Change drive for 3.5"
		Select the drive of the disk you want to clean.

	- 6 - Clean 5.25"
		This option will clean the head in either drive 1 or drive 2.

	- 7 - Change slot & drive for 5.25"
		Select the slot and drive of the disk you want to clean.

	- CTRL-Q
		Shall we really tell what that does?

___________________________________________________________________________

Minimum System Requirements

	It is a 6502 compatible application.
	It has been tested on Apple IIgs ROM 01 & ROM 3 versions.

___________________________________________________________________________

Copyright Notice

	Parts of the source code (DH.EDD.S) are (c) 1986, Utilico Microware.
	Parts of the source code (DH.CORE35.S) are (c) 1994, Neil Park.
	For further reference,
	read http://www.brutaldeluxe.fr/documentation/iwm/apple2_IWM_PARKER_199402.PDF

---

Download :


DustHead v1.1 - 800 KB disk image



DustHead v1.1 - 140 KB disk image



DustHead v1 - 800 KB disk image



DustHead v1 - 140 KB disk image